Secret Kiss
Melodrama for Narrator and five instruments
Commissioned by Gageego! Ensemble Gothenburg, Casa da Música Remix Ensemble Porto,
Müpa Budapest, Plural Ensemble Madrid, Musikfabrik Ensemble Cologne, Bunka Kaikan Tokyo
Description
First performance: 27 January 2019, Gothenburg
Gageego! Ensemble
Conductor: Peter Eötvös
Ryoko Aoki, Noh singer
Text: Mari Mezei, selected from Alessandro Baricco´s novel Silk
English translation: Eszter Molnár
Japanese translation: Oriza Hirata
The melodrama Secret Kiss was composed upon the request of the Japanese singer and performer, Ryoko Aoki. She holds a special position in the culture of the Japanese, traditionally male-dominated Noh theatre, which she consciously fuses with contemporary music and novel forms of expression. More than thirty contemporary pieces have been composed upon her special request so far. While Ryoko Aoki moves towards the West coming from the East, Peter Eötvös does it the other way around: he invites the Eastern traditions to enter into a dialogue from a Western perspective (his piece Harakiri written in 1973 too has been performed by Ryoko Aoki several times).
Synopsis
"Silk tells the story of a 19th century Frenchman, Hervé Joncour, who intends to bring silkworm cocoons to Europe, thus he travels to Japan where he falls in love with a mysterious young woman. The Secret Kiss recalls only one scene from the novel: Hervé Joncour sees the woman first at a business meeting with the Japanese man who guards the secret of silk. She is lying next to him with her head on his lap. At some point during the conversation, Joncour and the woman's glances meet, and he is staggered to see that her eyes are not oriental shaped. Embarrassed, Joncour takes a sip from his tea, the girl reaches for his cup and drinks herself at the exact place where he has drunk, then puts the cup down softly. In turn, Joncour repeats the ceremony and empties the cup. They will never meet again."
/Gergely Fazekas – 2018/
English translation: Anna Huppert
Performances
17 Sep, 2019
Budapest, Hungary
Eötvös: Secret kiss, Sonata per sei
Musikfabrik, Cologne, cond. Peter Eötvös
Venue: Müpa Budapest, Hungary
15 Sep, 2019
Cologne, Germany
Eötvös: Secret kiss, Sonata per sei
Cond.: Peter Eötvös
Ensemble Musikfabrik
17 Apr, 2019
Madrid, Spain
Eötvös: Secret kiss, da capo
Aaron Holloway-Nahum: The long March
Eötvös: da capo
Eötvös: Secret kiss
Kurtág: Messages
Ligeti: Piano concerto
Cond.: Peter Eötvös
Plural Ensemble
24 Mar, 2019
Porto, Porugal
Eötvös: Joyce quartet with clarinet, Steine, Secret kiss
Conductor: Peter Eötvös
Remix Ensemble
Casa da Musica
9 Mar, 2019
Tokyo, Japan
Eötvös: Secret kiss, Harakiri
Tokyo Bunka Kaikan
Ryoko Aoki
9 March, Tokyo, Japan
27 Jan, 2019
Gothenburg, Sweden
Eötvös: Secret kiss, da capo
Gageego! Ensemble, Gothenburg
5 Jan, 2019
Budapest, Hungary
Eötvös: Cricketmusic, "Now, Miss", Music for New York, A call, Joyce, Goretsch! Goretsch!, Secret Kiss
"Eötvös 75" concert
Eötvös:
Cricketmusic
tape, video
Music for New York
Moment's Notice Trio
A call
Bálint Kruppa, violin
Joyce (extraits from Joyce for string quartet and clarinet)
Classicus Quartet (Peter Szűcs)
Goretsch! Goretsch!
Andrea Jőrös
"Now Miss"
Bálint Kruppa, Ditta Rohmann
Secret kiss (extraits)
Piroska Molnár, UMZE Ensemble
Cond: Peter Eötvös
Budapest Music Center
Details
Publisher information
Orchestration

altflute (also flute)
bassclarinet (also clarinet)
violin (scord.)
violoncello
percussion (wooden cudgels )
narration in Japanese and English
Further information
A Secret Kiss című darab Ryoko Aoki japán énekesnő és előadó felkérésére született. A művésznő különleges helyet foglal el a hagyományosan férfi-műfajnak számító japán No-színház kultúrájában, amelyet tudatosan ötvöz kortárs zenével és újfajta kifejezési formákkal. Több mint harminc kortárszenei kompozíció született a felkérésére. Amíg Ryoko Aoki keletről indulva közelít a nyugat felé, Eötvös Péter éppen fordítva, nyugati perspektívából hívja párbeszédre a keleti hagyományokat, immár több évtizede (1973-as Harakiri című darabját Ryoko Aoki is többször előadta).
Az európai és a japán kultúra találkozásáról szól Alessandro Baricco Selyem című 1996-os, költői szépségű novellája is (Baricco Vértelenül című novellája az alapja Eötvös azonos című, 2016-ban bemutatott operájának). A történet egy 19. századi francia férfiról, Hervé Joncourról szól, aki selyemhernyókat szeretne Európába szállítani, s emiatt utazik Japánba, ahol beleszeret egy titokzatos fiatal nőbe. A Titkos csók csupán egyetlen jelenetet emel ki a történetből: a francia férfi egy megbeszélés során találkozik a nővel, aki csukott szemmel fekszik a selyem titkát őrző japán férfi mellett, fejét annak ölébe hajtva. A megbeszélés egy pontján a nő ránéz Joncourra, aki meglepve ismeri fel, hogy a nő európai. Joncour zavartan iszik egy kortyot a teájából, a nő elveszi a csészét, ajkait ugyanarra a helyre illesztve ő is belekortyol a teába, visszateszi a csészét, mire Joncour a szertartást megismételve kiissza az összes teát. Soha többet nem találkoznak.
A kamaraegyüttesre és narrátorra írott műben Eötvös japán-tematikájú műveinek szertartásos jellege éppúgy szerepet kap, mint a hangszerek színházi jellegű használata: a nagydobot egy ponton olyan mozgással szólaltatja meg az ütőhangszeres, mintha a csészéjét forgatná. A kimondatlan események és elfojtott érzelmek zenei szimbólumaként a két fúvóshangszer a mélyebb regiszterben mozog, s kettejükhöz a fél hanggal lejjebb hangolt hegedű, valamint az egészhez olykor különleges színekkel, olykor zenei támasztékot nyújtó basszussal hozzájáruló cselló társul.
"Minden történetnek zenéje van – írja Selyem című novellájáról Alessandro Baricco. – Ennek fehér zenéje. Ez fontos, mert a fehér zene különös muzsika, időnkint zavarba ejtő: halkan szól, és lassan kell táncolni rá. Ha jól játsszák, olyan, mintha a csönd szólna, s akik szépen táncolják, úgy tűnik, meg sem mozdulnak. Átkozottul nehéz a fehér muzsika."
/Fazekas Gergely – 2018/
Video
Ryoko Aoki, Musikfabrik Ensemble, 2019
Gallery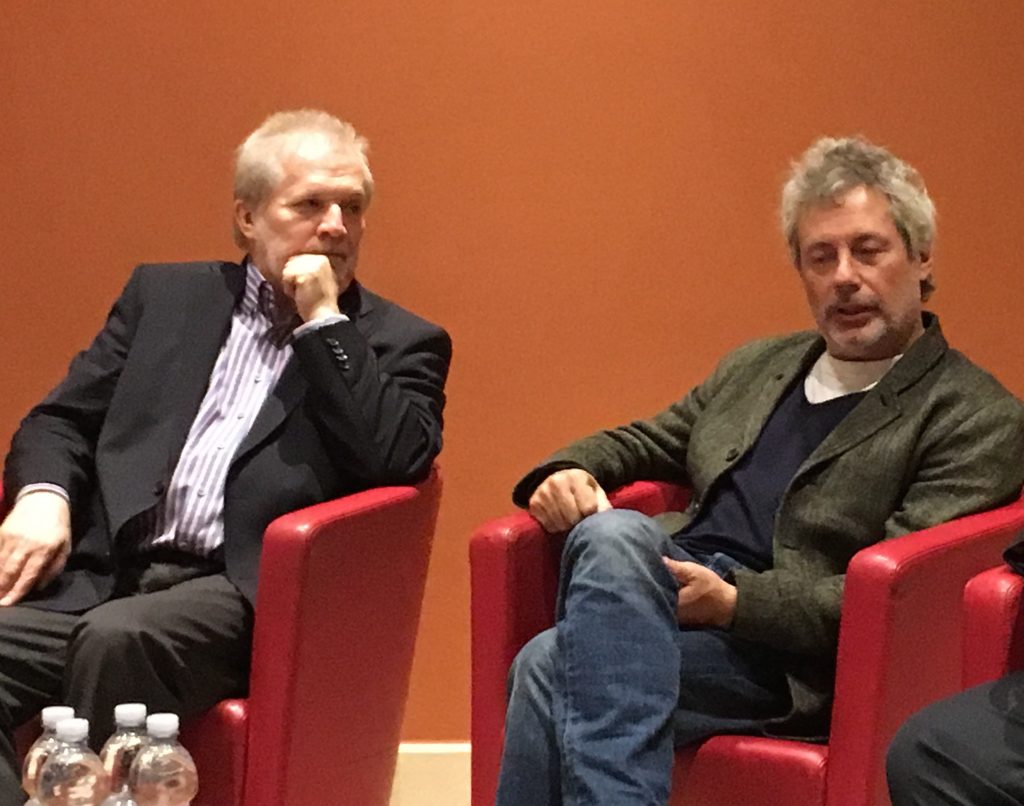 Peter Eötvös-Alessandro Baricco, 2018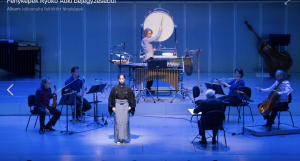 Ryoko Aoki, Remix Ensemble, Porto 2019