Seven / Levitation / CAP-KO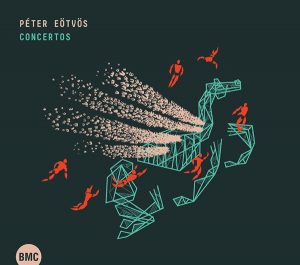 Year of release:
2014
Concertos
Since the beginning, Péter Eötvös's musical thinking has been characterized by a strong affinity for the stage. Although this is apparent in his instrumental works, perhaps the most dramatic instrumental genre, the concerto, did not occupy an important place in his early creative period. But in the period from his first large opera, Three Sisters (finished in 1997) up to the present, the concerto is perhaps the most important and most characteristic of his genres.
Seven (2006)
Memorial for the Columbia Astronauts
for violin and orchestra
Part I - Cadenza with Accompaniment
01. First Cadenza (for Husband and McCool) 1:45
02. Second Cadenza (for Anderson) 0:54
03. Third Cadenza (for Clark and Brown) 2:36
04. Fourth Cadenza (for Chawla and Ramon) 5:42
05. Part II 10:41
Levitation (2007)
for two clarinets, string orchestra and accordion
06.First Movement 2:29
07. Second Movement ("langsam, schwebend") 6:17
08. Third Movement ("barcarola") 6:58
09. Cadenza 2:05
10. Fourth Movement ("Petrushka's Resurrection") 3:04
CAP-KO (2007)
dedicated to Béla Bartók
Concerto for Acoustic Piano, Keyboard and Orchestra
11.First Movement 3:33
12. Second Movement 4:23
13. Third Movement 3:48
14. Fourth Movement ("Bartók crosses the Ocean") 5:03
15. Fifth Movement 3:11
Total time: 62:35
Performers
Gothenburg Symphony Orchestra (Göteborgs Symfoniker) (1-5, 11-15)
BBC Symphony Orchestra (6-10)
Conducted by Péter Eötvös
Soloists: Akiko Suwanai - violin (1-5)
Richard Hosford, John Bradbury - clarinet (6-10)
Pierre-Laurent Aimard - piano (11-15)
Production notes
Tracks 1-5 recorded at the Béla Bartók National Concert Hall of the Palace of Arts Budapest, as part of the Budapest Spring Festival, on 30 March, 2008; produced with kind permission of Budapest Spring Festival and MTVA
Tracks 6-10 recorded at the Barbican Hall London on 14 May, 2011 as part of the BBC Symphony Orchestra's Barbican season; produced in association with the BBC Symphony Orchestra, with thanks to the Barbican Centre and the City of London
Tracks 11-15 recorded by the Swedish Radio at the Gothenburg Concert Hall on 2 and 3 February, 2006
Mixed and mastered by Péter Eötvös and Péter Dorozsmai at Tom-Tom Studio, Budapest on 22 May, 2013
Music publisher: Schott Musik International GmbH & Co. KG, Mainz
Pierre-Laurent Aimard appears courtesy of Deutsche Grammophon Gesellschaft mbH
Artwork: László Huszár / Greenroom
Producer: László Gőz
Label manager: Tamás Bognár
CD Concertos received the best Contemporary CD from Record Geijutsu's Record Academy Award 2015.