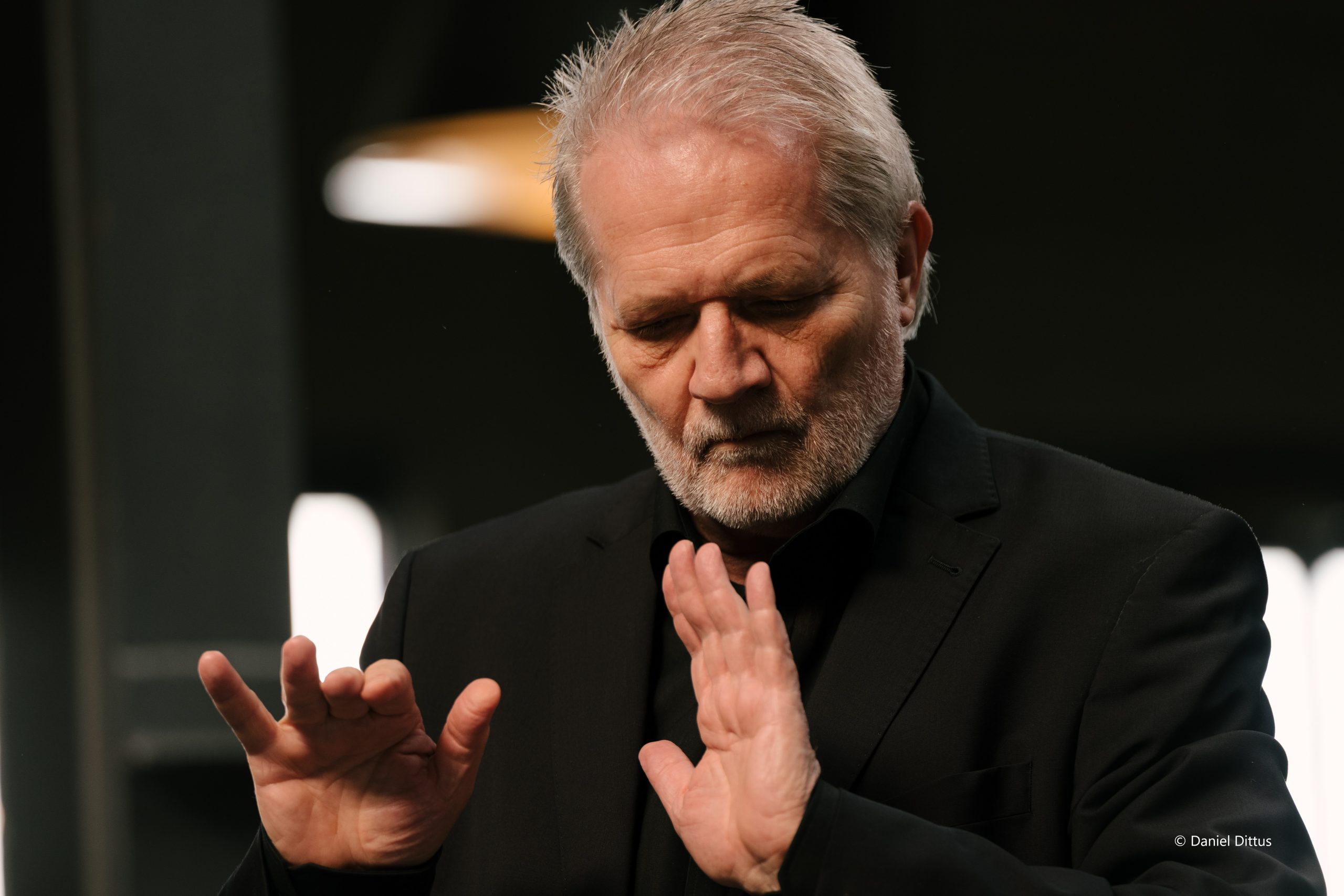 Short conductor biography
Peter Eötvös is a highly influential figure of the Hungarian and international contemporary music scene. He was born in 1944, grew up in Budapest and read composition in the School of Exceptional Young Talents at the Liszt Ferenc Academy of Music. At the age of 22, he went on to continue his studies in Cologne, Germany, where he earned a degree in conducting and had the opportunity to work next to Karlheinz Stockhausen. His international career has taken him to many parts of the world, from Japan to Germany, France, the Netherlands and to New York. From 1978, for more than a decade, he acted as the musical director of the Ensemble Intercontemporain in Paris and would give many a concert worldwide with the ensemble. In 1980, he made his debut as a conductor at the PROMS in London, and from 1985 until 1988, Eötvös was the principal guest conductor of the BBC Symphony Orchestra based in the British capital. Since 1985, he has spent longer or shorter periods as principal guest conductor, principal conductor, contemporary music expert at the greatest orchestras of Europe (the Budapest Festival Orchestra, the Hilversum Radio Chamber Orchestra, the Gothenburg Symphony Orchestra, the Stuttgart Radio Symphony Orchestra, the Vienna Radio Symphony Orchestra, the Munich Philharmonic Orchestra, the London Philharmonic Orchestra or the Royal Concertgebouw Orchestra), and also conducts orchestras overseas (the US, South-Korea, Japan). His fervent interest in and knack for contemporary music made him sought after not only with symphony orchestras but also with all significant, contemporary music ensembles. The audiences of – among others – Covent Garden, La Monnaie, the Châtelet and the Lyon National Opera also have had the chance to enjoy his work as an opera conductor. He has also taken to the stage at various important festivals, such as Glyndebourne, Aix-en-Provence or Salzburg. Eötvös has cooperated with directors like Luca Ronconi, Robert Altman, Klaus-Michael Grüber, Robert Wilson or Nikolaus Lehnhof.
He has been decorated with numerous prestigious international and Hungarian awards.
Conducted Concerts
25 Mar, 2021
Pécs, Hungary
Pannon Philharmonic
Cond: Peter Eötvös
Pannon Philharm. Orch.
Programme:
Eötvös: Siren´s song (first performance)
Bartók: Music for strings percussion and celesta
Venue: Kodály Center
23 Apr, 2021
Munich, Germany
BR Orchestra
Eötvös: Alhambra - violin concerto No 3. (Kristóf Baráti, violin)
Lachenmann: My melody
Cond: Peter Eötvös
Herkules Hall
30 Apr, 2021
Munich, Germany
BR Orchestra
Bartók: Divertimento
Eötvös: Senza sangue
Eötvös: Dialog mit Mozart
Bartók: Bluebeard's Castle
Viktória Vizin, Russel Braun, Krisztián Cser
Cond: Peter Eötvös
Herkules Hall
8 May, 2021
Budapest, Hungary
Concerto Orchestra
Eötvös: Siren´s Song
Eötvös: Alhambra - violin concerto (Isabelle Faust, violin)
Debussy: Prélude à l´après-midi d´un faune
Debussy: Ibéria - Images pour orchestre No 2
Cond: Peter Eötvös
Concerto Orchestra
Liszt Ferenc Academy of Music
Contact Impressario
For questions about the conducting work please contact HarrisonParrott.
Lydia Connolly +44 (0) 20 3725 9118
lydia.connolly@harrisonparrott.co.uk
Maxim Belcikov +44 (0) 20 3725 9143
maxim.belcikov@harrisonparrott.co.uk
Alexandra Aimard +33 (0) 158 30 51 56
alexandra.aimard@harrisonparrott.fr